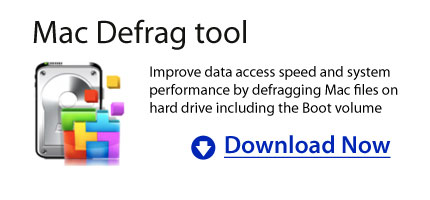 For Mac users worrying their fragmented disk is no sweat because the system itself is built with routine maintenance that is capable of defragging the hard drive automatically. However, running some third party defragging software to defragment Mac OS can help most of the time to speed up its speed and boost its performance.
Disk optimization vs Fragmentation
Disk optimization is a process where files that are stored in different locations in a volume are streamlined. All the files as well as metadata are rearranged and reorganized to increase the data time access while minimizing the hard drive head from moving. On the other hand, fragmentation happens when files are altered and stored in the volumes over time as it gets filled with other files, the different parts of the files are stored in different locations. When files that are fragmented are put altogether then this is a process known as defragmentation. But be aware that failure may happen during the defragmentation process sp it is important to have a backup copy of all your important files in case you might want it for future use.
Is there a need for Defragmentation?
The Apple itself doesn't recommend defragging the Mac OS X because of the following reasons:
Newer hard disk capacity of Mac today are greater compared before. With more free space available for all your files, there is lesser chance of the file system to get fragmented at all. With Mac OS Extended formatting which is the HFS Plus, this prevents reusing some space from files that have been deleted in order to avoid filling smaller spaces that are freed up from recent files that has been deleted.
The Mac also included the delaying of allocation for Mac OS X Extended formatted volumes. This allows the smaller space to group together into single large space in one area in the hard disk.
Fragmented files often happen when files are altered to existing files. But with newer Mac hard drives that have better caching and faster fragmentation rarely happens. It even supports the Hot File Adaptive Clustering and Mac OS X can even automatically defragment files.
With Mac's new hard drive that have aggressive read ahead and write behind caching capabilities, fragmentation has less effect on the hard drive as well as impact to the Mac system performance.
However, it won't hurt your Mac system at if you choose to defrag the hard drive. You can choose from a wide variety of defragging software that is available in the market. Some of it comes as a freeware as well. When it comes to defragging software one of the recommended tool for Mac is the iDefrag. But prior to defragging process it is important to backup all the needed files from the hard drive because sometimes software may fails and defragging process can take longer. It is important also to choose an idle time when Mac system is not in use if you wish to defrag Mac hard drive.
If your in doubt if you need to defragment Mac OS, go ahead anyway because there is no harm in doing it. As long as you choose the right defragging tool and backup all your important files before proceeding with the process.
Mac OS X defrag is not necessary all the time because the operating itself has its own built-in journaled files system that already handles defragmentation automatically. But it is still advisable to choose the right third party defragmenting applications that will deal with the files in the hard drive and reorganize it together and improving the system's performance in the process.
File Fragmentation: What Is It?
Fragmentation of files happens when it is scattered on different locations on the hard drive. This happens when large files are frequently created, modified and deleted. This is quite true when you create new files and delete the third one. If the new file that has been created is larger than the third file, the Mac OS X file system will store the new file to the space occupied by the third file and the remaining will be stored to other locations. If you want to access this file, the system will have to look at different places thus taking longer time to access this file.
Is There a Need To Defrag Mac OS X?
For Mac users they don't need to worry about their hard drive getting defragmented because the system itself does not need to be frequently defragmented because it is already built with routine maintenance that deals with defragging process automatically. Although fragmentation happens in the system but this does not affect the entire performance of the Mac system. But if you still frequently create and delete large files this can really bring significant degradation in the Mac performance.
How to Defrag Mac OS X?
If you already notice that the Mac system already slowed down its performance it is about time that you use and install third party defragmenting applications for Mac OS X. Although the Apple itself does not recommend any defragmenting tool for their Mac but you can choose from the widely available defragging software in the market and even the Macintosh Products Guide will tell what defragging software to choose for your Mac system.
When it comes to defragging the Mac OS X, one of the best and recommended tools is the iDefrag that is quite easy to use and uses five different defragging algorithms. It even supports journaling, case sensitive filenames and HFS+. You can also use its free trial version and you can purchase the application at a price of $37. If you plan to run defragging software in your Mac make sure that you are not using your Mac because it can take several hours to defrag Mac OS X.
When defragging Mac hard drive it really requires large amount of data to be reorganized and rearranged. There is a larger risk that you might lose some important data in the process so it is important that you backup all the important files before defragging the hard drive. Once the defragmentation process is done, you will notice that the Mac's performance has greatly improved and accessing files takes faster time.
Mac OS X defrag is quite beneficial in the process because this can tweak the performance of your Mac system and even resolve the issues on fragmented files. You only need to select the right defragging software that will work effectively on your Mac system and make sure that you backup all your important files before you proceed to defragging the Mac system.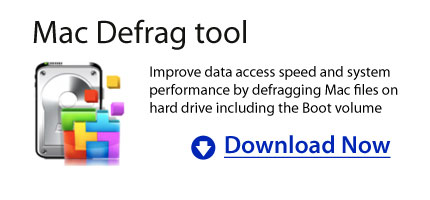 Incoming search terms:
Some Mac users would offer wonder if they need to defrag a Mac's hard drives. This information will discussed Mac's hard disk defragmentation and what you can do as Mac users?
Fragmentation is a process where files are created and deleted more often. This involves storing files in different locations when that hard disk space is already occupied with other files and it have to locate for other locations where it need to store the files in the hard disks. This greatly reduces the response time of the system to access the entire files because it has to look for different places in the hard disk.
For users who are using the Mac platforms they don't need to worry about the defragmentation issues because the Mac system itself is designed to deal with fragmentation and it is already built with routine maintenance in tweaking the Mac system. This does not either affect the performance of the system thus defragmenting the Mac hard disk is not needed frequently.
But in reality, as Mac users are using the system more often and access the hard disk too frequently this can affect the system's performance in the long run. This is quite true if you create and delete large number of files in the hard disk thus increasing the chances of the disk to get fragmented in the process and can even slow down the file system performance.
When this happen, it is quite recommended that you select third party defragmentation applications that will defrag the Mac hard drive. But before you go on installing this defragmenter tool it is important that you back up all your important files. It is wiser also that you use applications such as driver setup that will initialize the disk and restore the files after defragging process takes place. Just keep in mind that reinitializing the hard disk at times will completely erase all the files in the hard disk and making a complete backup is quite recommended in order to restore all the files to its original state.
The defragging process can take longer because of the large amount of data that need to be rearranged and reorganized. However there are third party defragging tools that cannot recover the critical portion of the hard disks. Thus to prevent the risk of losing all the important files a complete backup in the system should be done prior to defragging the Mac system. There are a of defragmentation applications that you can select in the market and each of it has its own features and capabilities that are needed for defragging all the files in the hard drive and tweaking the Mac system to a better performance.
So the next time you are faced with the issues whether you need to defrag a Mac. The answer is simply yes. Although Mac don't recommend it but doing it in a way can be advantageous for Mac system. This will increase the access time in locating for files easily and at the same time improving the Mac system performance.
Incoming search terms: