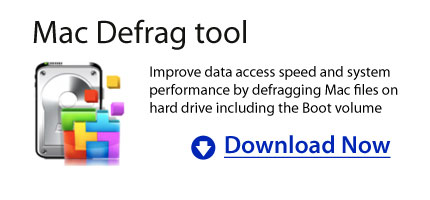 For Mac users worrying their fragmented disk is no sweat because the system itself is built with routine maintenance that is capable of defragging the hard drive automatically. However, running some third party defragging software to defragment Mac OS can help most of the time to speed up its speed and boost its performance.
Disk optimization vs Fragmentation
Disk optimization is a process where files that are stored in different locations in a volume are streamlined. All the files as well as metadata are rearranged and reorganized to increase the data time access while minimizing the hard drive head from moving. On the other hand, fragmentation happens when files are altered and stored in the volumes over time as it gets filled with other files, the different parts of the files are stored in different locations. When files that are fragmented are put altogether then this is a process known as defragmentation. But be aware that failure may happen during the defragmentation process sp it is important to have a backup copy of all your important files in case you might want it for future use.
Is there a need for Defragmentation?
The Apple itself doesn't recommend defragging the Mac OS X because of the following reasons:
Newer hard disk capacity of Mac today are greater compared before. With more free space available for all your files, there is lesser chance of the file system to get fragmented at all. With Mac OS Extended formatting which is the HFS Plus, this prevents reusing some space from files that have been deleted in order to avoid filling smaller spaces that are freed up from recent files that has been deleted.
The Mac also included the delaying of allocation for Mac OS X Extended formatted volumes. This allows the smaller space to group together into single large space in one area in the hard disk.
Fragmented files often happen when files are altered to existing files. But with newer Mac hard drives that have better caching and faster fragmentation rarely happens. It even supports the Hot File Adaptive Clustering and Mac OS X can even automatically defragment files.
With Mac's new hard drive that have aggressive read ahead and write behind caching capabilities, fragmentation has less effect on the hard drive as well as impact to the Mac system performance.
However, it won't hurt your Mac system at if you choose to defrag the hard drive. You can choose from a wide variety of defragging software that is available in the market. Some of it comes as a freeware as well. When it comes to defragging software one of the recommended tool for Mac is the iDefrag. But prior to defragging process it is important to backup all the needed files from the hard drive because sometimes software may fails and defragging process can take longer. It is important also to choose an idle time when Mac system is not in use if you wish to defrag Mac hard drive.
If your in doubt if you need to defragment Mac OS, go ahead anyway because there is no harm in doing it. As long as you choose the right defragging tool and backup all your important files before proceeding with the process.
Most Mac users are wondering if defragging their Mac OS and disk optimizing is an effective way in order to repair disk permissions. Even Apple itself is confident that the Mac OS X doesn't need defragmentation because the system itself is built with its own optimization tool. However defragging might not hurt your system at all particularly of you have large files stored in the hard drive and the memory is already low. If you wish to defrag Mac you can do it and somehow this can also improve the performance of Mac system.
If you think that your Mac system is already slow and applications are taking longer to open then the next thing that you can do is create a backup copy of all your files in the hard drive, then re-install the Mac operating system and then retrieve your important files back to the system. This is quite time consuming and risky thing that you can do but will eventually makes the system to run faster and access the files easily. Another way to do this is use some defragging tools that will create a clone in the drive, reformat the hard drive and then restore back the old files in the system. This is one of the fastest remedy for your slow Mac system.
Is there a Need for Mac Os X Defrag?
Fragmentation is a method where files are divided into separate parts and then stored in different locations in the hard drive. When files are accessed it will look on different locations causing the system instead to slow down. Files systems are composed of different portions that are separated from each other. Once the hard drive is full it will used the smaller space on the disk that will result in dividing the files into smaller chunks and store it in different locations. This is already a process known as fragmentation.
The Mac OS X HFS+ file system don't need defragging process because the system will only used the space on the hard drive that is recently freed before it will look for other areas where they can store their files. Mac OS X also bundle the smaller space altogether making it into larger portions. And lastly Mac itself perform their own defragmentation process known as Hot-File-Adaptive-Clustering that reduces the files t be fragmented.
Some Mac users often relate defragmentation to disk optimization. This is a different process actually. Disk optimization organize all related files into one group in order to improve the performance of the system unlike fragmentation where it split the files into different chunks and store it to different location. One of the common defragging utility for Mac is the iDefrag application that changes the arrangement of files in the hard disk drive in order to improve the performance of the Mac system.
Mac users are often confused if there is a need to defrag Mac OS X. Although the Apple Company does not recommend doing this but defragging the system is quite beneficial too. Mac OS X itself is built with its own optimization tool to perform its own defragmentation process but disk optimization and defragmentation can be a better solution to improve the overall performance of the Mac system.